On February 16, 1968 in Haleyville, Alabama, the world's first 911 call was dialed by then-Senator Rankin Fite using the Alabama Telephone Company. According to the National Emergency Number Association (NENA), 911 telephone services grew at a rate of 70 new local systems per year through the latter part of the 1970s in the United States. By 1987, approximately half of the American population had 911 emergency services available and that grew to over 93 percent by 1999.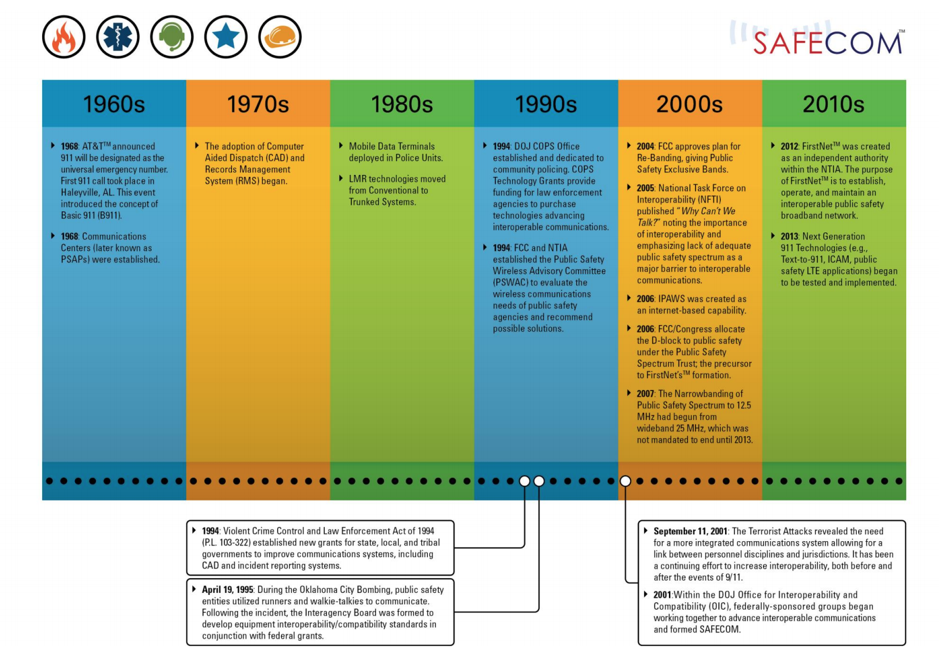 Evolution of 911
According to a Mercury News Article, there are 240 Million calls made to 911 every year and over eighty percent are made using a mobile phone. While that number itself is staggering, the response time drastically varies depending on your city and state.
The national average response time is around 15 minutes and 19 seconds. Wyoming clocks in as the state with the longest wait, which is around 35 minutes. States with large rural areas, like Wyoming, have prolonged wait times with about ten percent of people waiting more than 30 minutes for emergency services to arrive.
DIY Security Cameras With Professional Monitoring
It is critical to ensure that false alarms and calls are limited. According to an Angie's List Article, roughly 36 Million calls that police respond to turn out to be false alarms every year. In turn, this costs taxpayers nearly $2 Billion dollars. Between 94-98% of those false alarms could easily be avoided through the implementation of technology like video verification through artificial intelligence and verified calls made by professionals.
YI Technology has made huge strides in this regard through their new partnership with Noonlight, and together they are paving the way towards providing an enhanced and complete security surveillance system for the home. According to YI Technology's Press Release, with the help of Noonlight, YI can provide its customers the ability to seamlessly dispatch emergency services to their homes with a tap of a button. This solves a significant pain point for customers of self-monitored home security products, which currently lack the ability to notify public safety agencies if an event in the home requires emergency assistance.
Noonlight, with the experience of 115K+ emergency case handlings, a 1.5 Million active user base and 3.5 Million monthly sessions, is the right partner for YI, which has produced around 20 Million security surveillance cameras in the past 4 years.
Enhanced 911 Services From YI and Noonlight
For a 911 call to be effective, an exact location and nature of the emergency needs to be provided to the dispatcher. Calls to 911 over a Public Switched Telephone Network (PSTN) are passed through a special router or tandem router, which look up the exact address in a database and pass it on to the Public Safety Answering Point (PSAP). A Public Safety Answering Point is a call center responsible for answering calls to an emergency telephone number (such as 9-1-1) for police, firefighting and ambulance services.
When a 911 call is made using a mobile phone, the call is received by cell towers through Mobile Switching Centers (MSC). When a call is received it is given a Pseudo Automatic Number Identification (PANI), a unique identifier, and then connected to the local PSAP.
Here's an example of how YI and Noonlight's 24/7 Emergency Response Services would be helpful. Let's say Jane lives in an apartment in San Francisco and has a YI Home Camera and signed up for the monthly 24/7 Emergency Response subscription. Currently, Jane is on a work trip in New York and just received a motion-activated notification on her phone. She opens the YI Home App, views the alert video clip and accesses the live feed to discover that there is someone breaking into her apartment. She slides the 'Send Help' button and is instantly connected with a Noonlight Certified Responder. She has the option to speak on a phone call or through SMS text. The Noonlight Dispatcher is able to contact the San Francisco Police Department and have police dispatched to Jane's apartment to apprehend the robber.
The 24/7 Emergency Response Service is currently available for US-based customers and YI is offering this service for up to 5 different properties. This is providing greater peace of mind for YI's customers who want to ensure that their family and the things they care about are safe and secure.
What Sets YI & Noonlight Apart From The Competition
YI Technology provides a comprehensive DIY surveillance system, and through this partnership with Noonlight, they have once again upped the competition. For less than the price of a designer coffee, their 24/7 Emergency Response monthly subscription covers any false alarm penalty.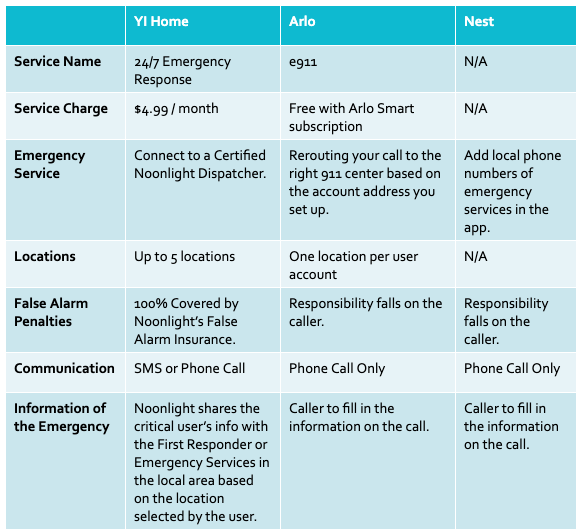 Noonlight : Process Flow During An Emergency
Experiencing a home intrusion or a medical emergency is a harrowing experience for anyone. When a YI customer sees a break-in or life-threatening event in their YI Home App, connecting with a Noonlight Emergency Dispatcher is simply a tap away. When the 'Send Help' alert is triggered, the location where the emergency is occurring is immediately shared with Noonlight's Emergency Response Service. With your user profile and address on hand, the Emergency Dispatcher can gain critical context of the emergency through text messages or a phone call. If you're unable to respond within 60 seconds for any reason, police will be dispatched to the location.
Because YI Cares
Life's not perfect and we don't expect you to be either. If the "emergency" turns out to be a false alarm, YI's users are covered by Noonlight's False Alarm Insurance with their 24/7 Emergency Response subscription. Users can claim reimbursement by contacting Noonlight directly at info@noonlight.com and providing their name, phone number and the date of the alarm incident.