Police departments define a 'False Alarm' as a call which upon further investigation shows a lack of evidence of physical damage to property or personnel. False alarms do not include alarms resulting from violent acts of nature, such as earthquakes, gale force winds, or tornadoes.
According to the International Association of Chiefs of Police Survey (IACP) from 2013, 57% of respondents reported that false alarms are a significant issue for their department. There are also a few other interesting survey outputs such as the following: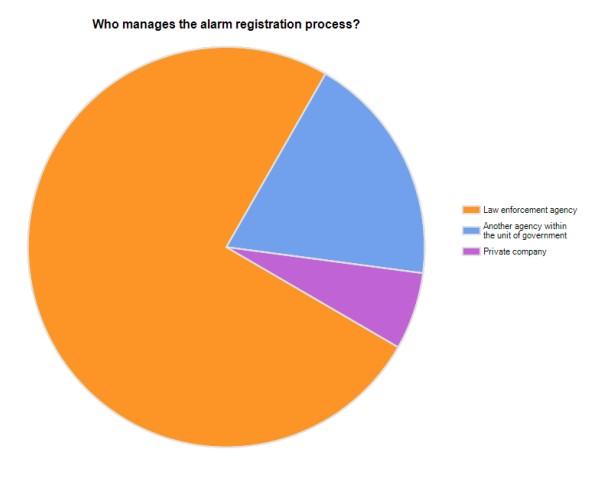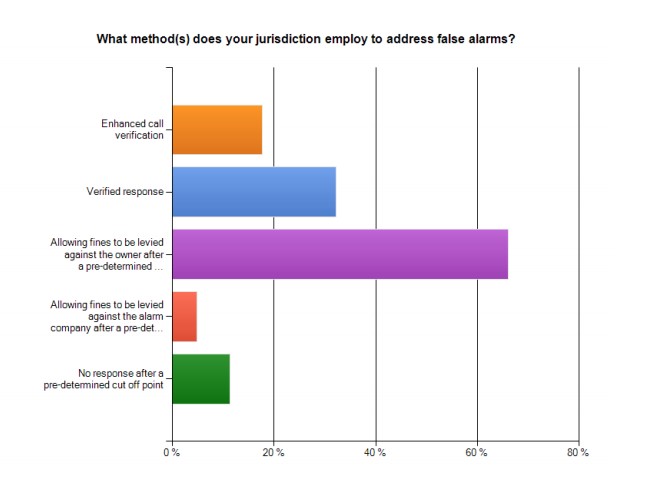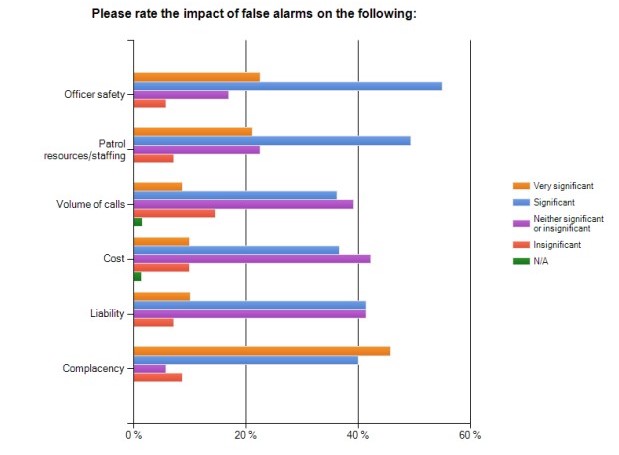 Over the years, a set of processes have evolved which has helped reduce the number of false alarms. Here are the most effective ways local police departments have dramatically curbed the number of false alarms, according to an urban.org article and the IACP Survey.

Local Ordinances – Requiring alarm companies to registration Alarm Systems, also known as Enhanced Call Verification.
Verified Response – Verified response requires visual (in person or by video) confirmation by the alarm company that a break-in has occurred.
User Education Classes – Ensuring that alarm owners know how to successfully activate and deactivate their system is key in reducing false alarms.
Fines for Owners – A jurisdiction may consider implementing an escalating system of fines for false alarms after a predetermined number of free responses. The IACP advises a maximum of two free responses before instituting fines. The fines may serve as a deterrent and a way to recoup the costs of service delivery.
Fines for Alarm Companies – Depending on applicable court rulings, state laws, and local ordinances and the cause of the false alarm (such as a violation of the local ordinance requiring enhanced verification), a jurisdiction may consider fining the alarm company.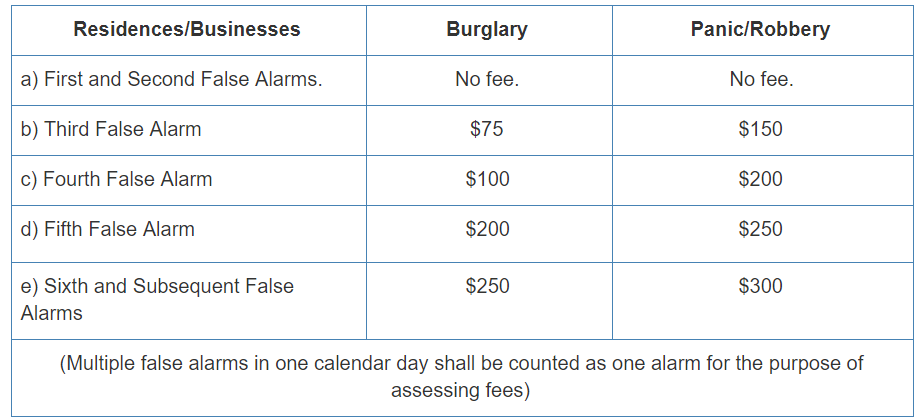 Video Verification
One of the big challenges of security systems is alarm verification. When a sensor has an automatic alarm trigger, this can lead to a multitude of false alarms. It can take a significant amount of time before the sensor becomes reliable enough to trust these alerts if they tend to be overly sensitive. On the other hand, 24/7 monitoring is expensive and typically only justifiable for commercial establishments with the high-end inventory.
There is a solution for those looking for something in between those options: intermittent monitoring. Intermittent monitoring straddles personal home security and middle to low commercial businesses. The key to this solution is a trained call center respondent that can verify video footage when an alarm is triggered. The call center employee checks for an intrusion or some other emergency and makes a judgment call, based on the footage, on the severity and type of response required. The responding services the employee can choose from are police, fire and ambulance. Again, the key for intermittent monitoring lies in the physical sensor which generates the first alarm which enables the camera to record footage and this footage is then viewed and used by the call center respondent to make an informed decision.
The home security industry is undergoing a shift as DIY-systems are competing with professionally managed services, and thus bringing the RMR (Recurring Monthly Revenue) down. The industry is also seeing a transition where residential security dealers are now moving towards small commercial establishments who are willing to pay RMR of $100 or more for professionally managed services.
According to SDN Magazine, companies like NAPCO Security Technologies are launching professionally managed services targeted at these small-to-medium businesses. Jorge Hevia, SVP of Sales and Marketing at NAPCO Security Technologies, states, "The typical residential consumer is realizing they can do everything we can do, for free. Where we think there is a higher potential for RMR for dealers is in commercial. A small business owner may be willing to pay $100 a month because it saves them a lot more than that. We can monitor a restaurant's refrigerators to make sure they don't lose thousands of dollars' worth of food or take a video of the back door because businesses lose inventory that way. There are millions of small businesses across this country who are multiple-unit singular owners, and we think this is something that has a lot of value."
The current ecosystem of Intermittent or "Active Professional" Managed Security Surveillance is mapped out below: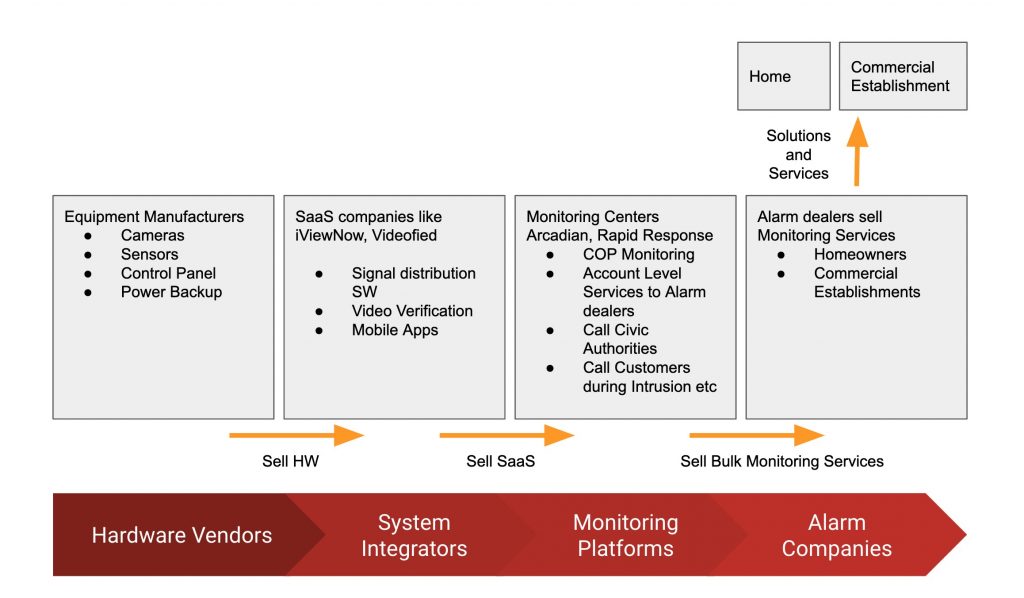 Video and Sensor Hardware
Video hardware manufacturers, such as YI Technology, provide base-level sensors such cameras with passive infrared sensors for motion detection. According to GrandView Research, the physical hardware market is projected to reach $292.4B in 2025 and is growing at a rate of 9.5% CAGR, and video surveillance is expected to be the largest hardware segment. System integration services have led the global physical security market since 2018 and are likely to maintain its dominance.
System Integrators
System integrators, such as I-View Now and Videofied, provide video monitoring as a software subscription as a service (Saas) software distribution model. These companies integrate security system signals, video sources, cloud applications, and internet-connected devices (IoT) to a cloud-based data center connected a plethora of monitoring platforms such as IBS, SGS, etc.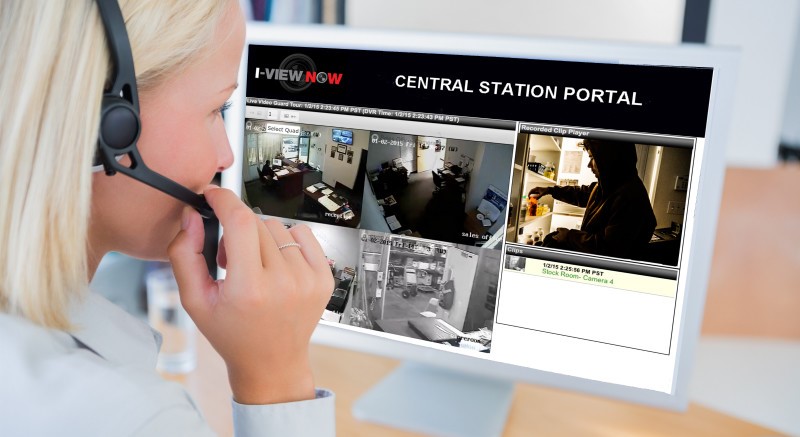 Monitoring Platforms
These monitoring platforms can provide alarm routing, enterprise-grade video feed, and call centers staffed with responders who are trained make verified calls to police, fire, ambulance services. MAS Monitoring Services provides an example of features you can expect from one of these monitoring platforms includes: highly flexible alarm routing and partitioning (ie: assigning high-priority alarms to more experienced operators), high processing capacity proven to handle growth scenarios up to 10x the event traffic of the most sophisticated monitoring centers, support for multi-location dispatch through client-server database structure, ability to manage contacts globally and track across multiple sites, view and retrieve event history easily with a one-click process.
Looking To The Future
Overall, the security system industry is going through an exciting shift. Video security is becoming more efficient and affordable for consumers and small businesses. The case for professionally managed services remains strong as cost-effective monitoring solutions do not exist, and sensors are still not reliable for video event detection. YI Technology is making strides towards creating a robust cloud-based video monitoring platform with its partnership with Noonlight for location-specific Emergency Services.
Eventually, video verification features need to be moved to Edge where AI and Home Security will converge.