In times of distress, it's human nature to go back to the basics. The current COVID-19 crisis demonstrates this better than ever. Amidst the uncertainty, the fear of the unknown and the very real anxiety over how the crisis will affect us, our loved ones, and our livelihoods, we are turning more and more towards the basics: food, safety, …..toilet paper.
Maslow's Pyramid of Needs
The urge for survival is rooted in the so-called Maslow's hierarchy of needs: a motivational theory in psychology that postulates that humans are motivated by unfulfilled needs in hierarchical order. First, certain lower needs must be satisfied before the person can address higher needs.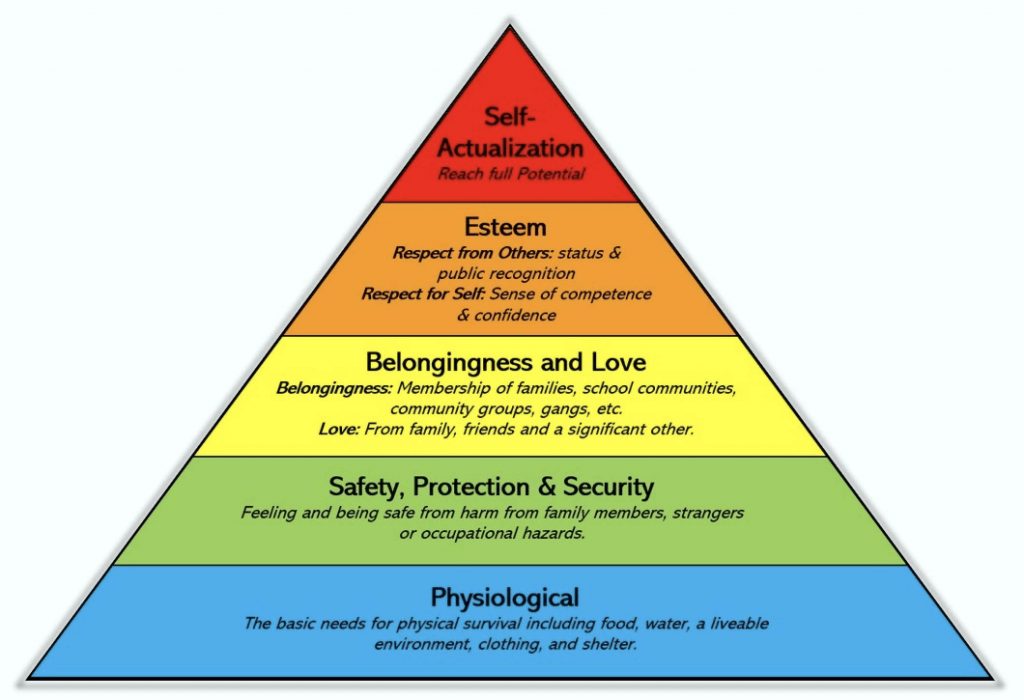 At the bottom tier of the pyramid are the basic physiological needs: food, water, rest and warmth, as well as safety and security. To be able to attend to the higher social, esteem or self-actualization needs, a person needs to ensure their basic needs (survival and safety) are continuously maintained. People seek comfort in the knowledge they have the necessities for survival, including a safe, secure environment.
Hence, we have observed the rush to the stores to buy extra grocery supplies. Empty shelves, where the tomato cans and toilet paper used to sit signal to a drive to satisfy the needs at the foundation of the pyramid.
Next, people look into safety. The feeling of uncertainty of what the future will bring creates anxiety stress. To alleviate it, we try to control as much as we can. Fortunately, in today's day and age, enhancing control of security is both possible and recommended.
The third tier is tied to social needs, such as the need to form intimate relationships and friendships, followed by esteem needs: the need for appreciation and respect. The need for self-actualization is at the highest tier of Maslow's pyramid and in its essence, reflects a person's need to reach their full potential.
Safety in uncertain times
Broken down to its basics, the need for safety is a need to experience control, predictability and order. This extends to all aspects of 'safety' – financial security, emotional security, security in one's future, as well as physical safety. This is why so many of us struggle with feelings of insecurity, anxiety and stress in times where there's little order and predictability.
Psychological perspective
From a psychological perspective, the need to be safe is evolutionarily hard-wired. In ancient times, when our surroundings were significantly more dangerous and unpredictable, feeling unsafe signaled potential threats or damage to the individual, which motivated them to leave in search for more secure surroundings. We've gone a long way since the cavemen, but the need to feel safe and secure is still a fundamental motivational drive. As society progresses and develops, the need for safety expands to emotional security and financial security, as well as more complex structures, including social stability, law and order, health and wellbeing (safety against accidents and injury).
The current COVID-19 crisis has left the world a scary place, where millions struggle with fear of the unknown. This is directly linked to an unfulfilled need for security. When we are concerned and uncertain in immediate surroundings, which is the house, our property, and our loved ones, we're looking for ways to remove this fear.
Fulfilling the need
The good news is that satisfying your basic needs, even in today's climate, is in most cases manageable. Needless to say, security cameras provide precisely this sense of security and alleviate the feelings of stress, anxiety and the fear of the unknown. This has been proven by a huge growth of demand in the sector which we have also observed at YI and Kami.
At YI and Kami, we are working at full speed to support your basic needs. Our mission has always been to alleviate the mental and emotional stress associated with feeling unsafe and it's no different now. Safety should not weigh on your mind. To make it one less thing to think about in today's chaotic times, we have dedicated all our efforts to keep you and your loved ones safe. Knowing you have the tools to feel secure in your home is the first step towards alleviating anxiety in times of a crisis and beyond.

---
Are you interested in more things YI and Kami? Join our forum and say Hi!