Finding the most reliable products as parents can be both time consuming and difficult. On this page, you'll see a comparison table for some of the most popular baby monitors around. We hope to make the decision as easy as possible. When shopping for a baby monitor, your heart & soul is going into that purchase. Some people spend most of their lives planning and preparing for this very event—a newborn baby. The most important thing is the safety and well-being of your baby. So, you need a baby monitor but which one? This table compares Infant Optics, Owlet, Cubo, Vava & Kami Baby.
We know many factors go into this decision. You're probably noticing that baby monitors come with many features. But, keep in mind that it's not about the number of features, it's about the overall quality and usefulness of the features. The features need to be consistent. The need to not interfere with the baby monitors ability to communicate with you. Is this baby monitor battery-powered or plugged-in? If it's battery-powered, what are the features' effects on battery life? Can you use your new baby monitor with Alexa or Google Nest? The questions go on and on. Hence the time-consuming and difficult we talked about before. =
So, let's cut through the noise and keep it simple. This comparison table is more focused on the safety features that will help you decide. Not to overwhelm but to help clarify which Baby Monitor brings the value you're looking for today. Take a look at the table below: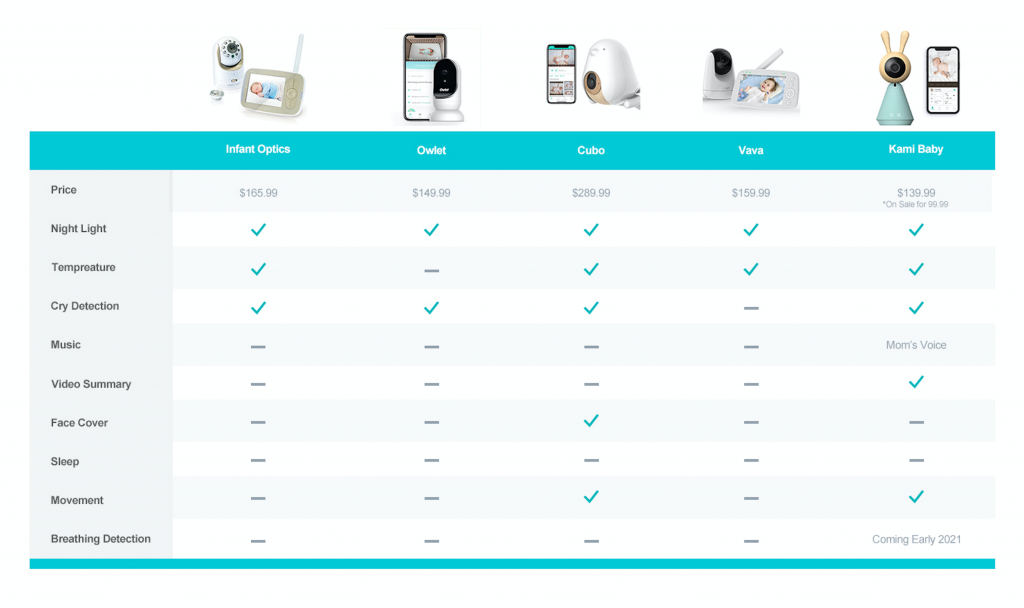 Now that we've shown you this helpful table to make your decision, please send us feedback! We'd love to hear from you. What features do you find most beneficial? Whether you have any ideas for improvement or just general questions, we want to hear from you. We know that talking and listening to future & current parents is vital to improving one of the essential products around—your baby monitor.
While we have you, let us tell you a little about the Kami Baby because it's so much more than a Baby Monitor. The KamiBaby is packed with smart sensors and adaptive AI that allows you to not only keep an eye on your little one but also check on the room conditions, receive a sleep summary, and more. With features backed by a best in class Edge AI chip, KamiBaby only delivers relevant alerts, every time. Receive real-time sound and motion notifications with adjustable sensitivity.
You have a lot of options. We've shown you feature comparisons for Infant Optics, Owlet, Cubo, Vava & talked a little bit about our Kami Baby. We are incredibly proud of the KamiBaby, but your feedback is vital. Learning from and growing with you is important to us at Kami. 
Good luck with your search! And, please, let us know if you have any questions.