Simple Setup
Installing your 24/7 Pro Monitoring powered by Cove has never been easier. 24/7 Pro Monitoring is your home security system. Just 27 minutes of install time to receive unlimited full home security with your Kami and Yi Home App.
That's right. The Kami Home or Yi Home App can control 24/7 Pro Monitoring powered by Cove. Receive instant AI-powered alerts, entire home monitoring, recorded video history, and two-way audio right on your phone.
Combine DIY, simple installation with the incredible power of these enhanced features make 24/7 Pro Monitoring Powered by Cove the most desirable DIY, monitored home security system on the market.
Familiar Technology
Want to keep your sanity when upgrading your technology? Don't reinvent — maximize your existing solutions. This approach brings peace of mind, ease of use and ensures a smooth transition without overcomplicating your upgrade. Add extra security to your existing Kami and Yi Cameras by integrating video verification to your current home security experience with 24/7 Pro Monitoring Powered by Cove
To reiterate, all existing Kami and Yi Cameras work with 24/7 Pro Monitoring powered by Cove.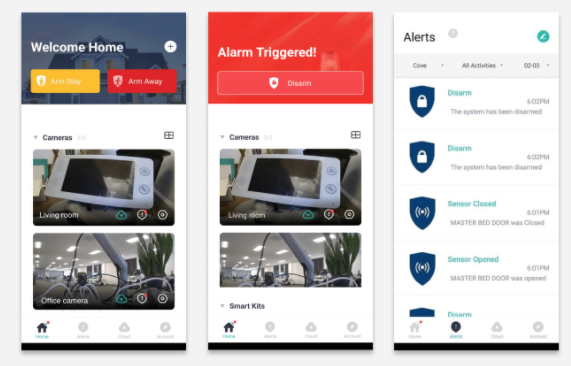 Customized
Most conventional home security systems have Arm/Disarm options when you leave or come home. With 24/7 Pro Monitoring, there is even more flexibility to personalize arm/disarm settings based on individual needs.
The Arm/Stay option safely secures specific sensors and cameras so that, if needed, the perimeter sensors are active when someone is home alone. Or, when upstairs sleeping, customize the Arm/Stay so that all lower-level sensors and perimeter sensors are armed while the family is upstairs nestling in for the night.
These customized settings allow for full control of the home security experience instilling peace of mind and assurance. Peace of mind that all is secure. The assurance in the unlikely event of an emergency, you are fully monitored, and help is on the way.
High-Level Equipment
24/7 Pro Monitoring powered by Cove is a home security system built to adapt and grow with your changing needs. All pieces of equipment are high-level. Protect your home with burglary and intrusion sensors (i.e., motion, window sensors), environmental detectors (smoke, CO2, water leakage), and for extra protection, remotes (security keyfobs, panic/alert button).
This system also comes with a full-panel—a staple of home security systems. The panel, which is 100% cellular and does not require a wifi connection to work, is the brains of the operation, with a 7″ touchscreen, two-way communication with dispatch, and protection from tampering. Now, you can Arm/disarm from your app or panel; no more rushing against a countdown.
Enjoy a lifetime warranty on your 24/7 Pro Monitoring home security equipment. Cloud subscribers have camera replacement options as a bonus of being a subscriber.
Constant Care with Enhanced Protection
LiveAssist turns your panel into a 24/7 two-way communication device with emergency services. It's live 24/7 coverage and instantaneous contact with the police, medical, or fire services whenever you need it. Enjoy enhanced protection with Cove's exclusive RapidSOS emergency dispatch integration could reduce emergency response times by an estimated 3-4 minutes.
Peace of Mind with 24/7 Pro Monitoring
You cannot put a price on peace of mind. Adding 24/7 Pro Monitoring Powered by Cove to your existing Kami and Yi Camera setup does just that, provides peace of mind. DIY, reasonably priced, fully monitored home security right to your door with 24/7 Pro Monitoring Powered by Cove