If you're looking for a security camera that offers excellent video quality, is easy to use, and is relatively affordable, you're probably considering a few different camera manufacturers. 2K resolution security cameras are the best resolution currently available on the market; however, it's vital to understand what aspects are most important to you to make the best decision.
When choosing your new 2K resolution security camera, you should carefully consider your budget, the size of the space you need to cover, and what features matter most to you.
The features that stand out these days are all AI-Powered alerts. Whether it be Face or Human Detection, sound or motion detection, these are all going to be pretty standard in some of your more well-known brands. Ring, Arlo, Nest. But what is a differentiating factor in distinguishing between the brands?
We've laid out a beneficial comparison between the big name brands and our very own Yi Dome U. Sometimes it's just helpful to have a visual representation to help you better understand the difference between each camera. We hope it helps!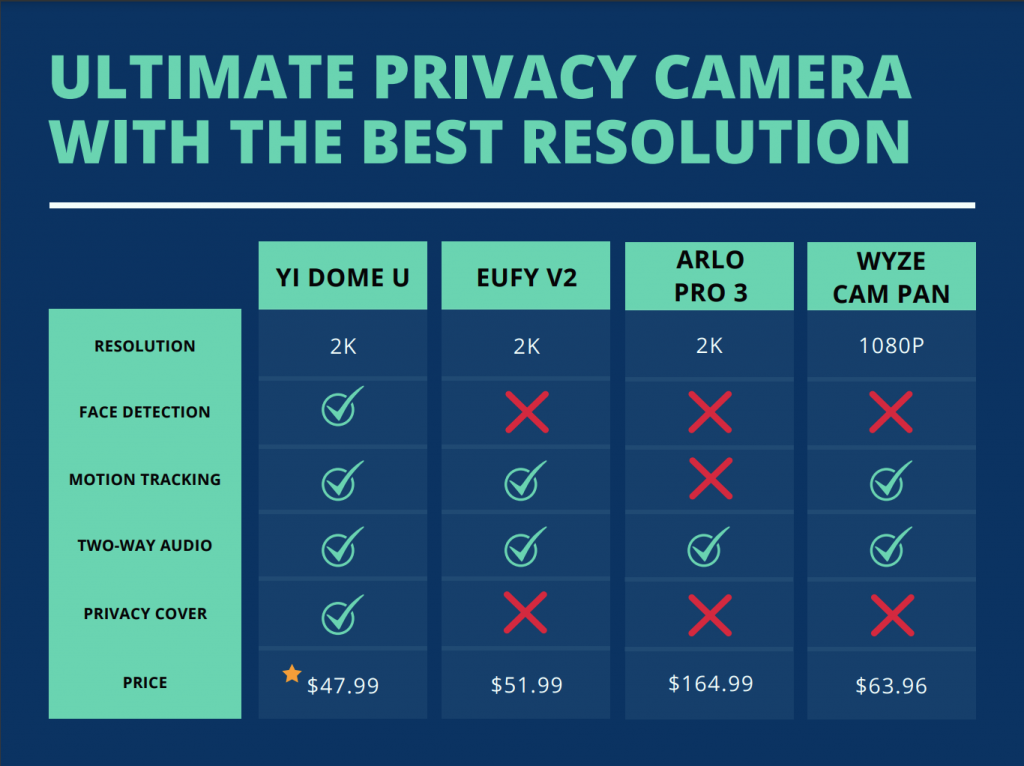 The new Yi Dome U has that critical feature that the others do not. That is the privacy cover. Privacy and security are on the top of everyone's minds who is using WiFi-connected cameras. Plus, it has a 2K resolution, which drives up the price of some competitors.
The Yi Dome U is an easy to use, WiFi-enabled camera with a night vision feature that allows you to see everything going on in your home when you are not there. And quickly stop recording with the privacy cover. It has a unique design and top-notch features that can help you find out what's happening when you are away from your home. If you decide to use this camera, it will not disappoint.