Whether you live in an urban or rural area, near a quiet park or a busy motorway, a security camera can provide you and your family with much-needed protection. We at Kami Home understand this best – our efforts have been dedicated to developing more reliable, affordable and accessible outdoor cameras for you and your family's safety.
The Kami Home Wire-Free Outdoor Camera fills in a niche that has been more or less unexplored. Traditionally, security cameras needed a connection to a power source. For many families, this simply isn't an option: installing a camera overlooking your backyard or front porch can only happen if you have a nearby power outlet. What's more, with traditional power source-connected cameras, versatility and portability are a piper's dream (and no one really loves the look of a bunch of wires and cables lying around, do they?).
With the Kami Home Wire-Free Outdoor Camera, we wanted to do things differently. Of course, battery-powered outdoor cameras aren't exactly a novelty. They're more versatile and convenient than traditional cameras, but this comes at the expense of battery life. Most battery-operated cameras boast a lifetime of several months, up to a year, at least on paper. In reality, however, these ratings are often unrealistic as they're calculated based on very short recording times (think: several seconds a day).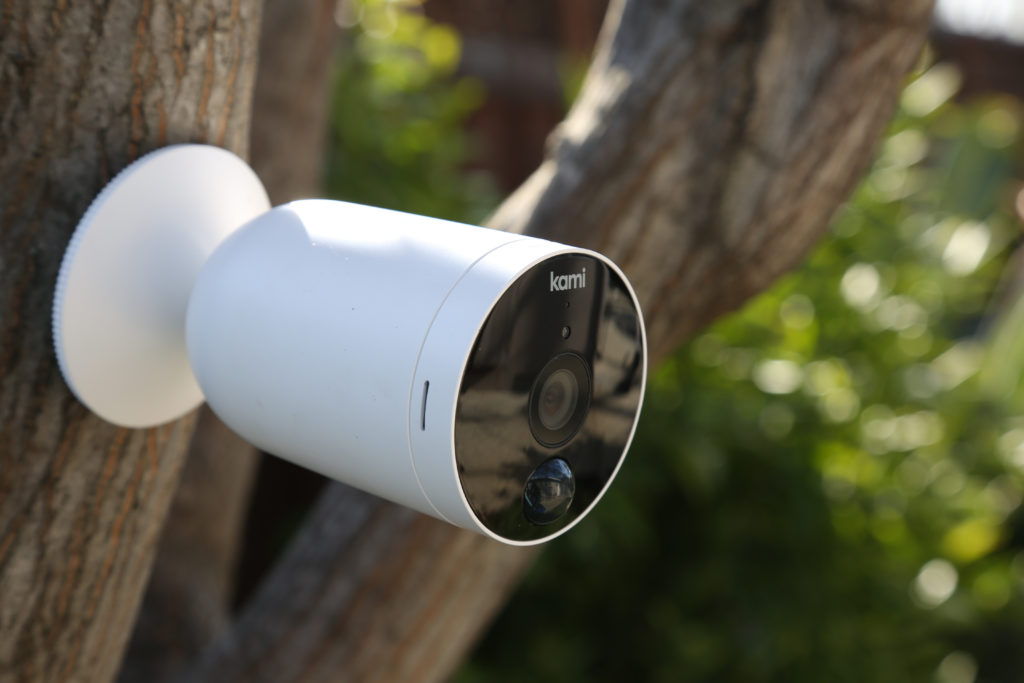 Long-lasting battery
We wanted to ensure that your Kami Wire-Free Outdoor Camera provides you with reliable recordings without sacrificing battery life. We've achieved this with an innovative alert and notification system: your Kami Home Wire-Free Outdoor Camera turns itself on and off, preserving battery life, and sends you notifications whenever a suspicious activity is recorded. Thanks to the smart, cutting-edge technology behind it, Kami knows to ignore frequently occurring innocent sources of movement – like cars going down the road or the movement of the trees in your front yard. Clever, huh?
Versatile and affordable
We designed Kami Home Outdoor Camera to be a versatile, convenient but most importantly, affordable solution for home security. The vast majority of battery-powered cameras are either high-end and packed with great features but at a higher price point; or lower-end, more affordable to the average customer but riddled with problems such as event delay or rapidly draining battery life.
The Kami Home Outdoor Camera is wire-free, which means it provides you with an unmatched range of versatility. You can easily install it in your backyard or overlooking the front porch; moving houses? You can take your Kami Battery Camera with you – switch it off, dismount it and pack it in a box in less than a minute. Because of its small size and versatility, the camera can also be used as a security system for your family's trip!
Easy to set up
We wanted to make home security easy and affordable, which is why the Kami Wire-Free Camera is ready to record straight out of the box (after you charge the batteries!). Because it connects directly to the WiFi, you don't need a network or power hub, or any sort of tinkering with the settings before you can use it. This unmatched convenience – the Kami Wire-Free camera is ready to record within 2 minutes – also comes at a great price point and extended battery life, essentially bridging the benefits of traditional power source cameras with the advantages of battery-operated ones.
Worry-free, wire-free protection
It's easy to use, offers hassle-free installation and versatility, which also means convenience, and all at a price that won't break the bank. Rather than being on all the time, draining battery and diminishing its lifespan, the camera has an array of alert settings you can configure yourself to suit your needs. This means extended battery life but also ensures you don't miss anything important.
The Kami Home Wire-Free Outdoor Camera has been designed for a range of applications. You can mount it on your fence, a tree or a wall to keep an eye on light traffic areas such as the backyard or the garden. Dog walker, babysitter, a courier – these are the visitors you often may want to keep an eye on! Or you can place it inside your home to monitor the activity of your toddler or pets and ensure their safety. With the Kami Wire-Free Cam, you stay in the loop at all times.
Excited to get your hands on your very own Kami Home Wire-Free Outdoor Camera? Your Kami is ready to be set-up and start recording within minutes of taking it out of the box. Order your wire-free camera or learn more about the Kami Home here: wirefree.kamihome.com