We are excited to announce the newest addition to our line of security solutions, the YI Dome Camera X. It is built with Edge computing, AI-based algorithms and state-of-the-art Wide Dynamic Range (WDR) capabilities that allow it to instantly send notifications and conquer the most challenging of lighting conditions. Designed with our customers in mind, the YI Dome Camera X boasts premium features, a sleek design and privacy capabilities. This is one smart camera.
We built the YI Dome Camera X as an Edge Computing Camera. This means that motion and sound triggered alerts are sent faster when compared to a conventional cloud computing camera. Additionally, the YI Dome X uses 30% less bandwidth from your home's network. When choosing this camera over the competition, you will benefit from faster notifications and more network bandwidth.
The YI Dome Camera X differentiates humans and pets from moving objects, resulting in more relevant alerts for you. Its abnormal sound detection will instantly notify you of noises, such as a baby crying or glass shattering. The alert settings are adjustable within the YI Home App, and you can customize them to be more or less sensitive depending on your preferences. You can use the camera's built-in two-way audio to have a conversation with your babysitter or ward off unwanted visitors. This is the perfect home security solution for pet owners and those who want to keep an eye on their loved ones.
With its Wide Dynamic Range (WDR) capabilities, the YI Dome Camera X can secure an entire room with crystal clear image quality. The premium 110° degree wide-angle glass lens records distortion-free and in full 1080P. Even abrupt lighting changes won't distort your images or cause you to lose a moment of details. You'll benefit from the camera's 340° degree horizontal and 95° degree vertical rotation, resulting in virtual zero blind spots. When movement is detected, it can automatically track and capture a video recording with its Motion Tracking software.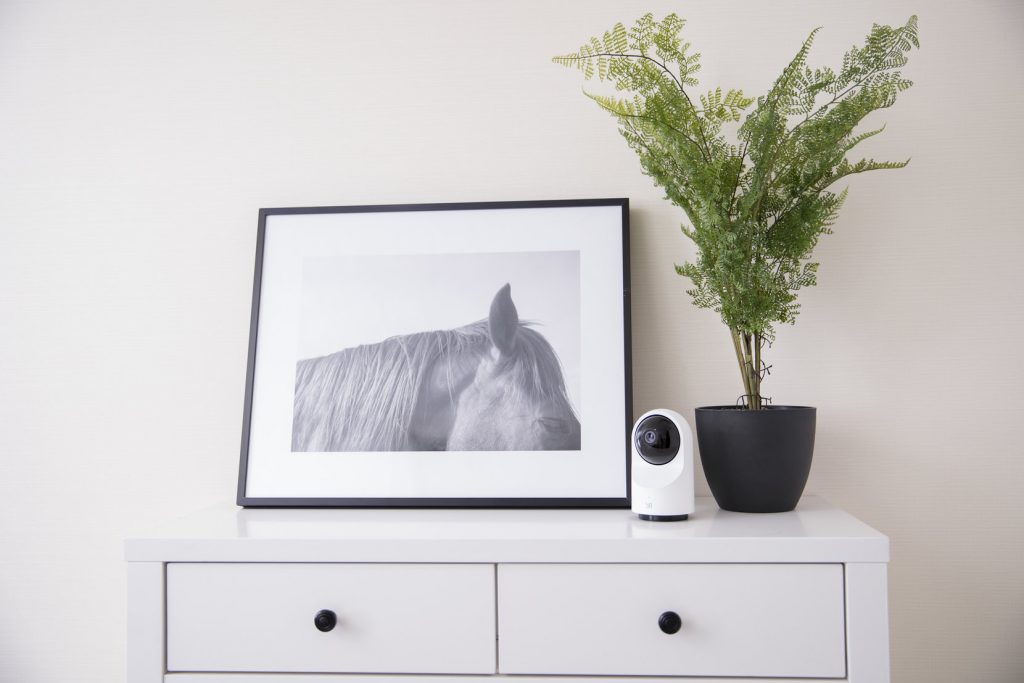 Want your camera to keep an eye on the whole room? Just activate Auto-Cruise mode to horizontally survey the area. Using your YI Home App, you have the option to select up to 8 locations for it to "cruise" to and continually survey. You can also create time-lapses of your recorded footage by compressing up to 6 hours into a 5-30 second clip.
Advanced Night Mode allows you to turn off the camera's infrared and LED lights. This feature eliminates light pollution commonly caused when security cameras are used at night. Turning off the infrared lights and LED indicator, is beneficial if you do not want to blind your baby, spouse or pet during the night. Additionally, this means that you won't have an LED light reflection in your video recordings if you use the camera to record an outside area, such as a walkway or driveway, through a glass window.
Unlike other security cameras, ensure your privacy when you want it. The YI Dome Camera X has a unique eyelid design that allows the camera lens to roll back and stop recording. Activating Privacy Mode temporarily disables the camera. Like all security cameras from YI Technology, it is 128 Bit end to end encrypted, which is the same level of security as online banking.
We know our customers want flexibility when it comes to storing footage, which is why the YI Dome Camera X was designed to work with or without an SD card. For those who prefer local storage, they will enjoy this camera twice as much as others because it supports SD cards up to 128GB, which is enough for 9 days of continuous recording in Full HD. As always, recordings can be viewed and shared directly through your YI Home App.
All YI Home Cameras come with lifetime technical support, one year warranty and complimentary YI Cloud Basic Plan storage*. The YI Cloud Basic Plan provides 6-second clips for all motion and sound triggered alerts, which are then stored for 7 days on our servers located in Silicon Valley, California. This complimentary 6-second clip storage does not require subscription or extra purchase. Storing footage in the cloud means that even if your camera is stolen or the SD card is damaged, your footage remains securely stored and is retrievable through your YI Home App account.
We hope you are as excited as we are for the release of the YI Dome Camera X and choose it to be your reliable security partner, doorkeeper, pet watcher, baby monitor and so much more!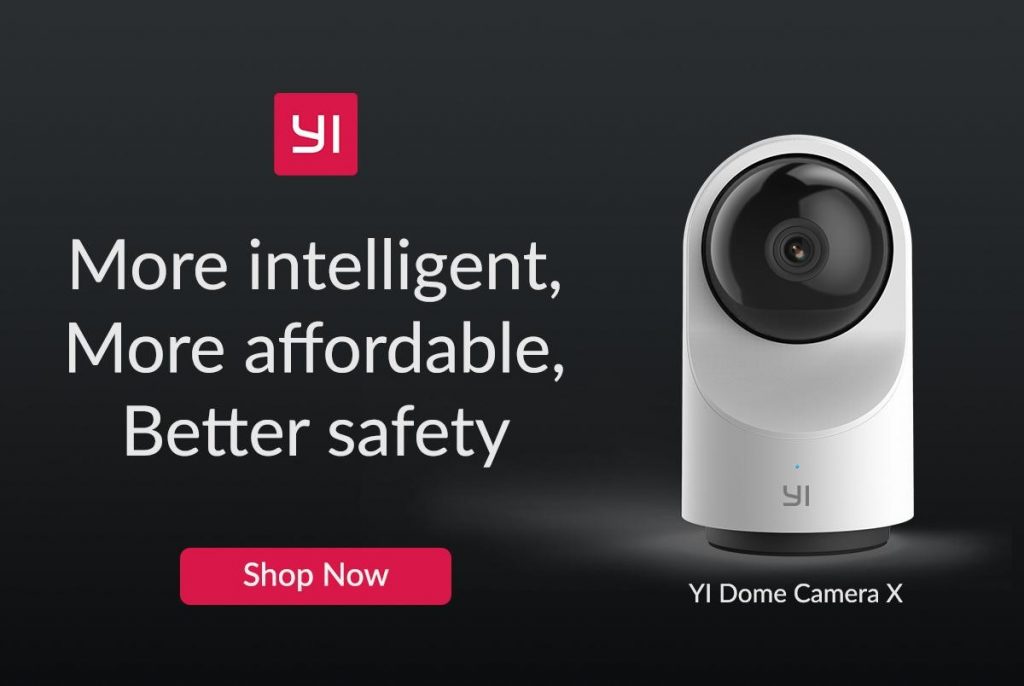 Upgrade your home's security today with a YI Dome Camera X.

Want to learn more about the YI Dome Camera X's exciting features such as AI-based alert indexing, Privacy Mode or time-lapse capabilities? Drop a comment below and we will write a follow-up post to go over all the details.
*An optional 24/7 CVR YI Cloud Subscription is available for purchase through the YI Home App.
What's In The Box:
1x YI Dome Camera X,
1x USB Adaptor,
1x Micro USB Cable,
1x Mounting Base,
1x Welcome Guide.
EU: Operating temperature: -10℃ – 60℃
US: Operating temperature: -14F- 140F
Supports IEEE 802.11b/g/n 2.4GHz Wi-Fi connections. Security protocols WEP, WPA2-PSK, WPA-PSK.
Link to Purchase is HERE.